Gyaruru (ギャルル) was a Japanese pop group produced by TNX and sifow on the TN-mix label. The original line-up consisted of Natsuko "Gal" Sone, Tokito Ami and Tsuji Nozomi a soloist under Hello! Project. Upon the sudden announcement of Tsuji's engagement and pregnancy, the group added a new member to the line-up as a replacement, Abe Asami, the younger sister of Hello! Project soloist Abe Natsumi.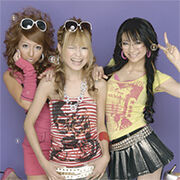 Members
[
]
History
[
]
2007
[
]
Formation of the new group was first noted in the gal magazine Ranzuki in the June 2007 issue -- which was released in mid-April. The official announcement was made on the April 24, on the TNX website and at a special launch event. Gyaruru is described as a 'Para Para gal unit' and danced to upbeat, eurobeat inspired songs.
On May 8, it was announced that Tsuji Nozomi would be retiring from Gyaruru to focus on her personal life. A few days later on the 15th of May, it was announced that Abe Asami would be joining the group under the name of 'Abebe'.
Their first single Boom Boom Meccha Maccho! was a Eurobeat track released on June 20 under the TN-mix label. The c/w to their first single is "Onna no Ultra".
Name
[
]
The girls chosen for the original line-up were each given a special name; Natsuko "Gal" Sone became 'Sonene', Tokito Ami became 'Amimi' and Tsuji Nozomi became 'Tsujiji'. The group's name "Gyaruru" is based on the japanese word 'Gyaru', a transliteration of the English word 'gal'
Discography
[
]
External Links
[
]