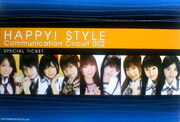 HAPPY! STYLE Communication Circuit 002
was the second live event by
HAPPY! STYLE
, it took place on July 6, 2008 at Omotesando FAB.
Featured Members
Edit
Zankoku na Tenshi no These - Iwashima Manami
Yuusha Ou Tanjou! - Suma Ai
Koutetsu Jeeg no Uta - Abe Asami
Getter Robo - Nakayama Nana
Ike! Zanbot 3 - Sasamine Aoi
Gaiking - Ogura Yui
Tatakae! Ga. Keen - Abe Asami, Nakayama Nana
Moment - Sakata Naoko
Yuzurenai Negai - Suma Ai
Miraiha Lovers - Ogura Yui
Kaze no No Reply - Ishihara Kaori
Sousei no Aquarion - Hirota Shion
Cosmos ni Kimi to - Iwashima Manami
Ike! Combattler V - Sasamine Aoi
Michiru no Theme - Abe Asami, Nakayama Nana
Arashi no Naka de Kagayaite - Suma Ai
Realize - Ichikawa Rina
You Get To Burning - Ishihara Kaori
Top wo Nerae! ~Fly High!~ - Hirota Shion, Tsukimiya Usagi
Active Heart - Tsukimiya Usagi
Meros no Youni -LONELY WAY-- Nakayama Nana
Watashi no Kare wa Pilot - Ogura Yui
Runner - Iwashima Manami
Yakusoku wa Iranai - Hirota Shion
L gaim -Time for L GAIM- - Suma Ai
Mazinger Z - Ogura Yui
Ore wa Great Mazinger - Sasamine Aoi
Tobe! Grendizer - Abe Asami
Combattle V no theme - Nakayama Nana
Gattai! Getter Robo - Sasamine Aoi
Apron dake wa Toranaide - Hirota Shion
Mirai-kei Idol - Abe Asami, Nakayama Nana
Mizu no Hoshi e Ai wo Komete - Iwashima Manami
Eternal Wind ~Hohoemi wa Hikaru Kaze no Naka~ - Ishihara Kaori
Quiet Night C.E.73 - Tsukimiya Usagi
Emotion - Tsukimiya Usagi
WHITE REFLECTION - Ishihara Kaori
DAYS - Iwashima Manami, Suma Ai
Wing of Destiny - Hirota Shion
Tenshi no Enogu - Ogura Yui
Geki! Teikoku Kagekidan
Date
Venue
Prefecture
Doors Open
Concert Starts
7/6
Omotesando FAB
Tokyo
14:00
14:30
18:00
18:30
External Links
Edit
Community content is available under
CC-BY-SA
unless otherwise noted.