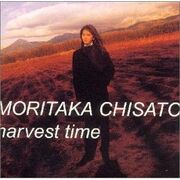 harvest time is the fourth best album released by Moritaka Chisato. it was released on November 27, 1999.
Tracklist
Edit
Rock n' Roll Kenchoushozaichi (ロックンロール県庁所在地; Rock n' Roll Prefectural Capitals)
Teriyaki Burger (テリヤキ・バーガー)
Mitsuketa Seifu (見つけたサイフ)
Daibouken (大冒険; The Great Adventure)
Aru OL no Seishun ~A Ko no Baai~ (Moritaka Connection) (あるOLの青春〜A子の場合〜(Moritaka Connection))
Nozokanaide (のぞかないで)
Watashi wa Onchi (私はおんち)
Shiritagari (しりたがり)
Mijikai Natsu (短い夏; Short Summer)
Yowasete yo Konya Dake (酔わせてよ今夜だけ; Only Tonight, Get Drunk)
Docchi mo Docchi (どっちもどっち)
Yoru no Entou (Video Mix) (夜の煙突 (ビデオ・ミックス); The Night's Chimney)
Hikisakanaide Futari wo (引き裂かないで二人を)
Kono Machi (この街; This Town)
The album reached #82 on the weekly Oricon charts and charted for one week.