Nakajima Takui
中島卓偉


General Information

Also known as

TAKUI

Born

October 19, 1978 (1978-10-19) (age 40)

Origin

Yamaguchi, Japan (born)
Fukuoka, Japan (raised)

Genre(s)

J-pop

Occupation(s)

Singer-songwriter, guitarist, lyricist, composer

Years active

1999–present

Label(s)

Zetima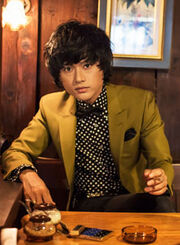 Nakajima Takui (中島卓偉), is a singer-songwriter, guitarist, lyricist, and composer under J.P ROOM.
Biography
Edit
After graduating from middle school in 1994, Nakajima moved to Tokyo. On the same year, he formed the visual kei band MAGGIE MAE with two other people. After MAGGIE MAE disbanded in 1998, Nakajima was signed under Sony Music Entertainment in 1999 and made his debut as a soloist on October 21, 1999 with his first single "Triangle" under the stage name TAKUI.
Following his debut, he was switched to Nippon Columbia, releasing his first album NUCLEAR SONIC PUNK. After his contract with Nippon Columbia ended in 2003, he joined UP-FRONT in 2004 the following year signed under the zetima label. As of March 2006, he now is credited by his real name.
On March 27, 2019, Nakajima released a self-cover album titled "GIRLS LOOK AHEAD" featuring solo covers of songs he wrote and composed for various Hello! Project groups, Ciao Bella Cinquetti, LoVendoЯ, Yajima Maimi, and Tasaki Asahi.
Name: Nakajima Takui (中島卓偉)
Former Stage Name: TAKUI
Birthdate: October 19, 1978
Birthplace: Yamaguchi, Japan
Raised: Fukuoka, Japan
Blood Type: A
Favorite Food: All type of ramen
Favorite Movie: Shuuru na Yatsu
Favorite Girls' Hairstyle: Black hair, short
Music Influence: The Beatles, Punk, all of British music
Name Board: Rubber Soul (The Beatles)
Hobbies: Jogging, suit made-to-order, traveling, reading, watching movies, sitz baths
Favorite Car: Mini Kensington
Favorite Painter: Magritte
Favorite Perfume: Penhaligon's
Favorite Accessory: BONITA
Favorite Place: Downtown of port cities
Respected People: John Lennon, Paul McCartney, Morishige Juichi, Wada Sho, his parents
Special Skills: not smoking, not drink alcohol, appease people
Good For: Black coffee, straight tea, not putting any pickled ginger in ramen
Motto: Doryoku (Effort)
Discography
Edit
External Links
Edit