Nihei Yuuka (二瓶有加) is a Japanese pop singer under UP-FRONT CREATE as a member of PINK CRES..
Biography
Edit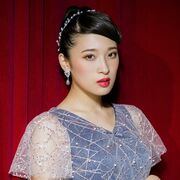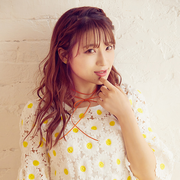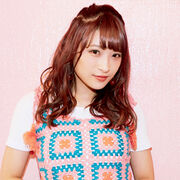 Early Life
Edit
Nihei Yuuka was born October 20, 1995 in Tokyo, Japan.
Nihei applied for the Morning Musume 12ki Member "Mirai Shoujo" Audition, but was unsuccessful.[1]
In the summer of 2015, Nihei joined a dance team and performed at a showcase.[2]
In late 2015, Nihei participated in the second recruitment for the 2015 Natsuyaki Miyabi Shin Group Member Audition and made it to the final round.
In March, in the Upcoming broadcast of the Natsuyaki Miyabi Shin Group Member Audition, it was revealed the Nihei was one of the two finalists alongside Kobayashi Hikaru.[3]
On April 1, she and Kobayashi were both announced as the winners and had become members of Natsuyaki Miyabi's new group.[4] The group's name was later announced as PINK CRES. on August 25 at Buono! Festa 2016, where they were guests and performed in concert for the first time.[5]
Nihei choreographed the dance for "fun fun fun" from PINK CRES.'s first indies album crescendo which was released on June 28.[6]
On September 24, Nihei Yuuka was cast for the role of Tsuru Hana in a theater adaptation of the video game NieR: Automata. The stage play was titled Butai Shoujo Yoruha Ver1.1a, and ran from December 3 to December 6, 2020.[7]
Personal Life
Edit
When Nihei joined PINK CRES. she was is in her third year of university. She planned on graduating a year early,[8] but as of April 2017, she is in her fourth and final year.[9]
The kanji in Nihei's given name Yuuka means "existence" (有) and "addition" (加).
Name: Nihei Yuuka (二瓶有加)
Nicknames: Nihe (にへ), Niheyan (にへやん), Yuuka (ゆうか)
Birthdate: October 20, 1995
Birth Place: Tokyo, Japan
Blood Type: A[10]
Height: 158cm
UP-FRONT CREATE Status:
Hobbies: Watching movies
Specialties: Dancing (for about 14 years as of 2016), Y balance
Cooking Specialties: Tamagoyaki
Sports Good At: Volleyball
Personality in One Word/Phrase: Bright and positive idiot
Charm Point: Nose
Discography Featured In
Edit
PINK CRES.
Edit
Concerts Featured In
Edit
PINK CRES.
Edit
[2016–2019] HELLO! DRIVE! (HELLO! DRIVE! -ハロドラ-) (Tuesdays)
[2020] Butai Shoujo Yoruha Ver1.1a (as Tsuru Hana)
References
Edit
External Links
Edit
Community content is available under
CC-BY-SA
unless otherwise noted.