Ogura Yui
小倉唯


General Information

Also known as

Yui, Yui-chan

Born

August 15, 1995 (1995-08-15) (age 23)

Origin

Gunma, Japan

Genre(s)

J-pop

Occupation(s)

Singer

Years active

2008–present

Label(s)

King Records, Just Production

Associated acts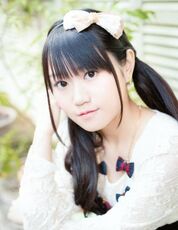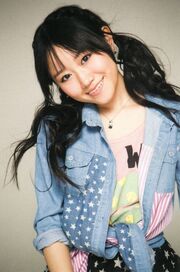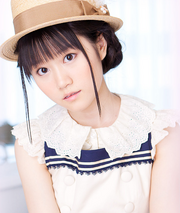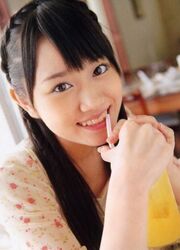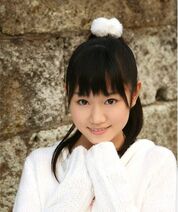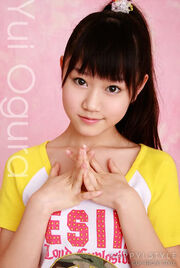 Ogura Yui (小倉唯), born August 15, 1995 in Gunma Prefecture), is a voice actress and pop idol who left UP-FRONT STYLE in 2011. She is a former member of StylipS and of YuiKaori—she's currently a soloist. 
On April 20, 2013 it was announced that Ogura would be graduating from StylipS alongside Ishihara Kaori.
On January 1, 2019, it was announced that Ogura has signed back with UP-FRONT under Just Production as a voice actress.[1]
In 2008, Ogura Yui was placed into HAPPY! STYLE a new Up-Front Style unit which performs live musical performances of famous idol and anime songs. In that same year Ogura was the dance motion capture model for the vocaloid character Hatsune Miku.
In 2009, Ogura was placed into the group Team DEKARIS alongside Noto Arisa, Ishihara Kaori, and Matsunaga Maho. Later in May 2010, Ogura and Ishihara Kaori formed a new duo called YuiKaori.
In 2011 Ogura took part in the seiyuu group RO-KYU-BU! in order to sing the theme songs for an anime series. Later in October 2011, she was placed into the promotional unit StylipS with the other former members of Team DEKARIS.
In April 2012, Her debut solo single "Raise" was announced. It is the ending theme song for the light novel-based TV anime series Campione!, where Ogura also provided the voice of the character Atena.
On April 20, It was announced that Yui and Kaori will be graduating from StylipS.
On September, Yui and Kaori left Style Cube. They are now affliated with the voice acting agency, Sigma Seven.
The duo YuiKaori announced that they had disbanded on June 30, 2017.
On January 1, it was announced that Ogura had signed under Just Production.[2]
Name: Ogura Yui (小倉唯)
Birthdate: August 15, 1995
Birthplace: Gunma Prefecture
Blood type: O
Height: 150 cm
Western Zodiac: Leo
Eastern Zodiac: Pig (Boar in Japan)
Skills: classic ballet, swimming, jazz dancing, tap dancing
Hobbies: walking her pet dog, karaoke, shopping
Favorite word: Arigatou (Thank you)
Favorite Food: dried plum, ice cream, strawberries
Disliked Food: nattou (fermented soybeans), mushrooms, seafood, raw fish
Qualifications: 5th level Chinese Character certification, 5th level English Proficiency certification, 1st level Swimming certification
Favorite Movie: "Spirited Away"
Favorite Game: The Game of Life
Favorite Actor: Yui Aragaki
Favorite Anime: Meitantei Conan [Detective Conan]
Favorite sport: skiing, skating, swimming
Current Obsessions: roller-ball pens, dressing up her pet dog
Up-Front Style groups:
Style Cube groups:
Other:
Discography
Edit
Major Singles
Edit
[2012.07.18] Raise
[2013.05.08] Baby Sweet Berry Love
[2014.01.29] Charming Do!
[2014.08.13] Tinkling Smile
[2015.08.12] Honey♥Come!!
[2016.05.18] High Touch☆Memory (ハイタッチ☆メモリー)
[2016.11.02] Future Strike
[2018.03.14] Shiroku Saku Hana (白く咲く花; Blossoming White Flower)
[2018.07.25] Eien Shounen (永遠少年; Eternal Boy)
Other Singles
Edit
Solo Songs
Edit
Singles Participated In
Edit
RO-KYU-BU!
Edit
[2009-2010] Yumeiro Patisserie (夢色パティシエール) (as Ringo Koizumi; Mint)
[2010] Kaito Reinya (怪盗レーニャ) (as Inspectors Daughter)
[2010] Kaichou wa Maid-sama! (会長はメイド様!) (as Girl B; Yukimura Ruri; Younger sister)
[2010] Yumeiro Patisserie SP Professional (夢色パティシエールSP(スペシャル)プロフェッショナル) (as Ringo Koizumi; Mint)
[2010] Ore no Imouto ga Konna ni Kawaii Wake ga Nai (俺の妹がこんなに可愛いわけがない) (as Gokou Tamaki)
[2010] Koe de Oshigoto! (こえでおしごと!) (OVA) (as maid girl)
[2011] .hack//Quantum (ドットハック クワンタム) (OVA) (as Hermit)
[2011] SKET Dance (スケット・ダンス) (as Chuuma Suzu)
[2011] Kamisama no Memochou (神様のメモ帳) (as Alice)
[2011] Ro-Kyu-Bu! (ロウきゅーぶ!) (as Hakamada Hinata)
[2011] Mayo Chiki! (まよチキ!) (as Choco)
[2011] C³ (C3 -シーキューブ-) (as Ningyōhara Kuroe)
[2011] Guitar Shoujo! (ギター少女!) (Special project)
[2012] High School DxD (ハイスクールD×D) (as Katase)
[2012] Saki Achiga-hen episode of side-A (咲-Saki-阿知賀編 episode of side-A) (as Toki Onjōji)
[2012] Tsuritama (つり球) (as Sakura)
[2012] Hyouka (氷菓) (as Zenna Kayo)
[2012] Kono Naka ni Hitori, Imōto ga Iru! (この中に1人、妹がいる!) (as Houshou Yuzurina)
[2012] Campione! (カンピオーネ!) (as Atena)
[2012] Oda Nobuna no Yabo (織田信奈の野望) (as Hanbee Takenaka)
[2012] Kono Naka ni Hitori, Imoto ga Iru! (この中に1人、妹がいる!) (as Yuzurina Hosho)
[2012] Sakurasou no Pet na Kanojo (さくら荘のペットな彼女) (as Kanda Yuuko)
[2013] Yama no Susume (ヤマノススメ) (as Kokonoa)
[2013] Hentai Ouji to Warawanai Neko (変態王子と笑わない猫。) (as Tsukiko Tsutsukakushi)
[2013] Ro-Kyu-Bu! SS (ロウきゅーぶ! SS) (as Hinata Hakamada)
[2013] High School DxD 2 (ハイスクールD×D 2) (as Katase)
[2013] Hyperdimension Neptunia: The Animation (as Rom)
[2013] Ore no Imōto ga Konna ni Kawaii Wake ga Nai. (俺の妹がこんなに可愛いわけがない) (as Tamaki Goko)
[2013] Unbreakable Machine-Doll (機巧少女は傷つかない) (as Komurasaki)
[2014] Saikin, Imouto no Yousu ga Chotto Okashiin da ga。(最近、妹のようすがちょっとおかしいんだが)
Video Games
Edit
[2009] Hatsune Miku -Project DIVA- (初音ミク -Project DIVA-) (Motion capture)
[2011] Choujigen Game Neptune mk2 (超次元ゲイム ネプテューヌ) (as Rom)
[2011] Guitar Shoujo (ギター少女!)
[2011] Brave Company (ブレイブカンパニ) (as Koretta Kabaneru)
Net Programs
Edit
[2012] StylipS Star Seiyuu e no Michi (StylipSスター声優への道!; StylipS: The Road to Becoming Voice-Acting Stars)
Magazines
Edit
[2012.07.08] Seiyuu PARADISE
[2012.07] Card Gamer Vol.5
[2012.07] Cosmic Earth Star
[2012.12.10] Seiyuu Animedia
[2013.04] Seiyuu GIRLS U-20
Photobooks
Edit
Solo

Group

She has a little brother.
She has a dog named Conan.
She's the youngest member of YuiKaori.
References
Edit
External Links
Edit
Community content is available under
CC-BY-SA
unless otherwise noted.