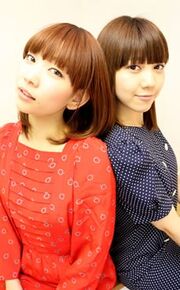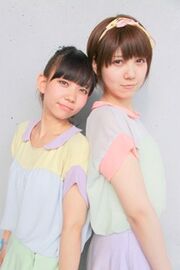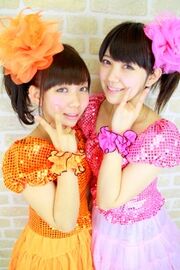 Yes Happy! is a Japanese pop duo formerly managed by UP-FRONT KANSAI. It was formed in 2008, but became active in 2011 when the unit was added to UP-FRONT KANSAI. The group consists of Sayaka, the leader, and Kokoro, the sub-leader. Together they perform most commonly in shopping centers and live halls in the Kansai area.
Yes Happy! mostly covers idol songs, especially from Hello! Project.
Members
[
]
History
[
]
2008
[
]
The group was formed in 2008 with Sayaka and Kokoro. During this time, they'd only participate in activities once in a while.
2011
[
]
In 2011, Yes Happy! joined UP-FRONT KANSAI. There, they began operations in full swing as a two-member unit from Shimane Prefecture.
2012
[
]
In August, their first original song "Yes Happy Day!!!" was performed in public.
In September, their second original song "Ne!" was performed in public.
2013
[
]
In 2013, Yes Happy! formed a three-member group with soloist Miyazaki Rio named Lovelys!!!! as a result of their joint lives together.[2] While in the group, Kokoro and Sayaka continued their Yes Happy! activities and were still often credited as Yes Happy! at lives and events.
2016
[
]
On August 9, Kokoro and Sayaka announced their graduation from Lovelys!!!! on September 25 to focus more on their activities as Yes Happy!.[2] Following their graduation from Lovelys!!!!, the duo left UP-FRONT KANSAI.
Discography
[
]
Singles
[
]
[2013.09.30]

Aiai Kasa

(相逢傘)
Mini Albums
[
]
Trivia
[
]
Both members are from Shimane, Japan.
Their name is often shorted as IeHapi (イエハピ or いえはぴ).
References
[
]
External Links
[
]